Latest news
How Antheia works?
1
Plant your seeds in
your indoor space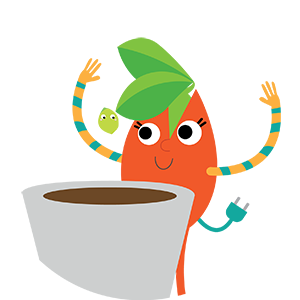 2
Install Antheia Box &
Sensors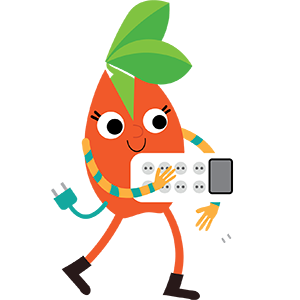 3
Controll all conditions easily
from seed to harvest
Antheia Box
Antheia is a sensor based grow assistant that makes the growing process easier, controllable and enjoyable. Unlimited different devices can be connected to one Antheia box. With the help of several sensors, Antheia always knows what your plants need. The sensor data is logged and can be accessed through the Antheia interface – online or offline. Every connected device can be automatically controlled by Antheia or manually by you. When something is wrong with your plants, Antheia will alert you.
Connect and control unlimited devices
Observe your plants with a camera and create a time laps video
Create schedules for any device connected
Create rules for the sensors
Access your Antheia over wifi and internet
Temperature, humidity and light sensor included
Expandable with more sensors
Built-in 8 inch touchscreen (offline version)
64-bit Quadcore ARM Cortext 1.2GHz CPU
1GB (900MHz) RAM
2.4GHz 802.11n wifi
Relay for 3 230/120V devices
Up to 3700 watt
To connect more devices, you can use smart plugs
Intelligent Guide System
+
Antheia is not a complicated industrial climate computer that needs several weeks of training before you can set it up. On the contrary, Antheia and her friends will guide you through the whole installation process. If something goes wrong, Antheia notifies and supports you in fixing the issue. There is no manual because Antheia will tell you what to do.
Offline or Online Growing
+
Antheia can work completly offline. You can controll everything with the build in touchscreen (offline version).
Or you can access your Antheia through your wifi with your smartphone, tablet or desktop computer. If you want, you can even controll Antheia over Internet from all over the world. Now you can see how your plants are doing while you sit on the beach and enjoy your free time.
Expert Growing Customization
+
Antheia will help you and automatically create rules for the devices connected to it. But you can create your own rules and customize the existing ones. If your plants are to dry and you want Antheia to start the water pump, you can create a rule for that. The light is off when it should be running, Antheia can turn on a backup light source. You can create a rule for every device, reacting to any sensor connected. You make the rules, Antheia takes care of the rest.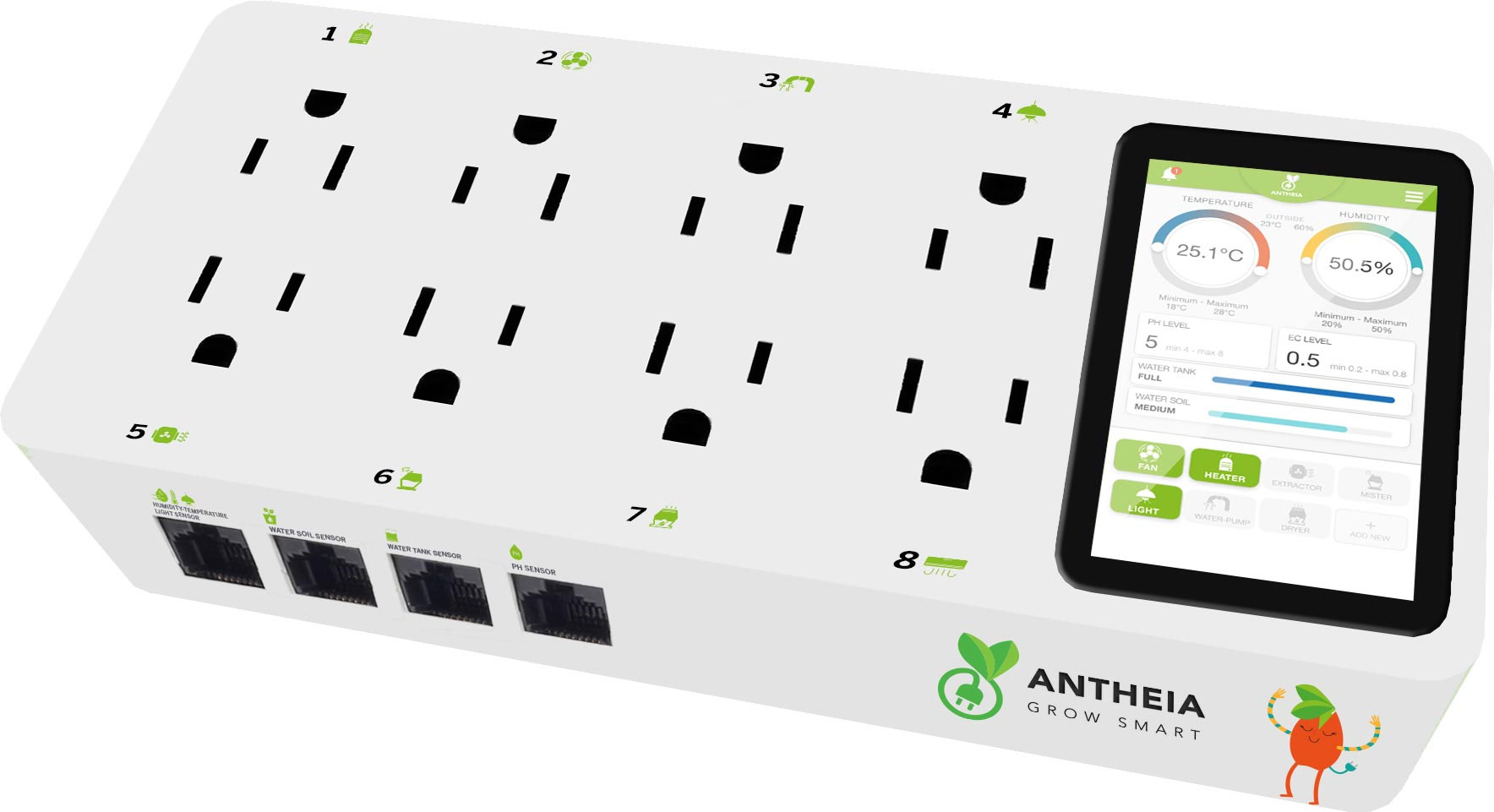 Antheia Sensors
Temperature,
Humidity & Light
The three-in-one sensor is the main sensor of Antheia. It measures the temperature and humidity digitally twice per minute. With the light sensor Antheia can see if the light source is running and how strong it is.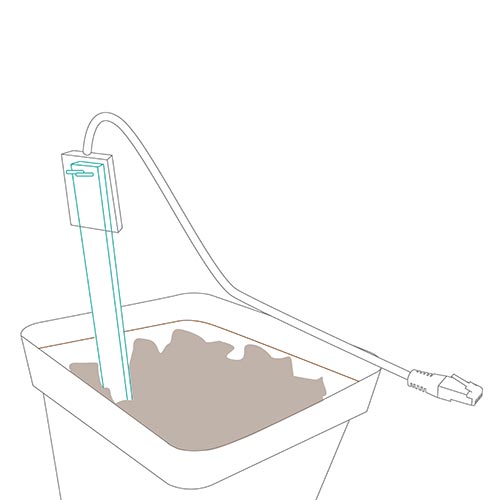 Soil Moisture
It measures the moisture of your soil with frequences so you know when your plants need water. This water sensor, especially developed for plants, uses a new technique which doesn't release toxic salts into your soil.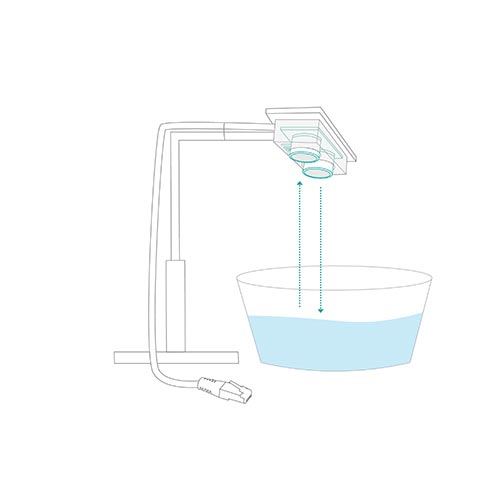 Water Tank
We use ultra sonic waves to measure the distance from the sensor to the surface of your water tank. So Antheia knows how full your water tank is. You calibrate it once and then Antheia knows that's full – that's empty.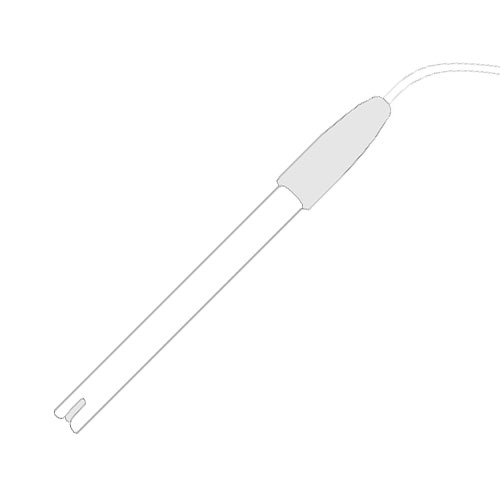 pH
With the pH sensor box you can connect any pH electrode you want. The pH tells you how alkaline or acid your water is. Some plants are very demanding, they need a specific pH.
Antheia Web App Free
Optional Free WebApp
You can use Antheia completely offline, but if you want you can connect Antheia to your local (wifi) network. So you can access the Antheia web app over your smartphone, laptop or desktop pc. You can even make Antheia accessible over internet. So you stay in touch with your plants from everywhere in the world.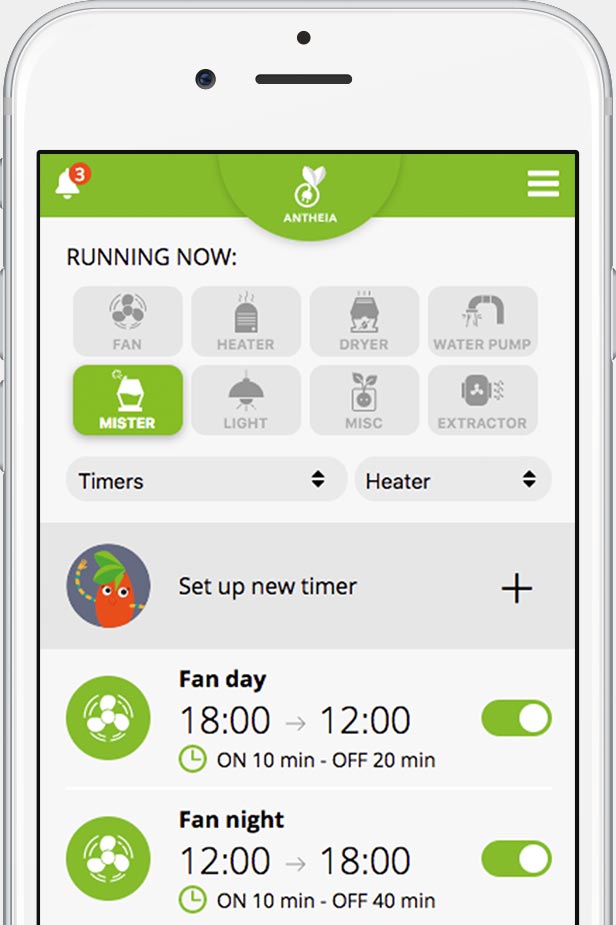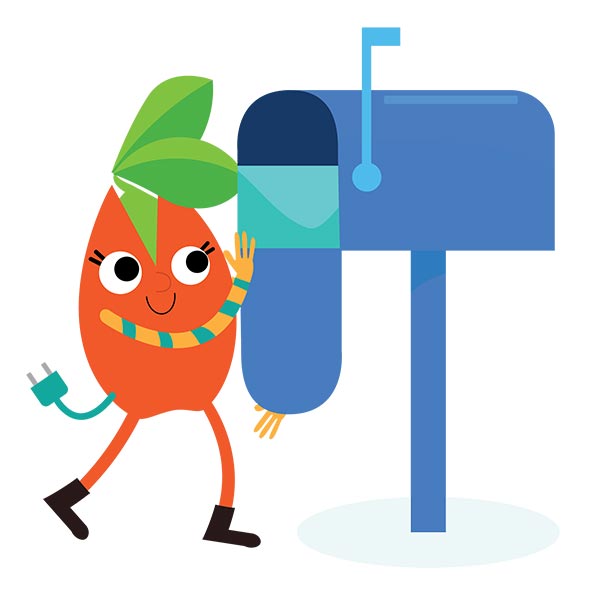 Stay updated with our newsletter or come back soon!